Wellness products and personalized nutrition are available from Dr Nancy's Integrative Medicine. All natural. Compounded. No perfumes, dyes, parabens and GMO-Free.
Featured Products
Advanced Antioxidants. Help your immune system be stronger as cold and flu season arrives.

Immuno-Boost Injection also available. Glutathione, Vitamin C, Zinc
Dr Nancy Focus offers hours of long-lasting focus without adverse side effects. The secret is our patented plant-based RCP and all-natural Suntheanine. Unlike others, RCP is not extracted or isolated so your dopamine has time to replenish as the active focus ingredients do their job. Active ingredients in Dr Nancy Focus are backed by over 70 clinical studies.

Improves:
Focus & Concentration
Cognitive abilities
Mental Clarity
Reduces the appearance of cellulite as it works directly on fat cells. Features innovative ingredients complex that burns fat.

Moisturizes and effective.


Dr Nancy believes wellness products should be available to everyone. We carry two options for your health considerations NGCares Excellence By Design or Fullscript Quality Supplements. Same great quality in each supplement provider but Excellence By Design provides all supplements in ONE powder or capsule!
Option 1: NGCares Excellence By Design
Custom Wellness Solutions by NGCares are prescribed for you by Dr Nancy based on cellular level testing administers by a simple blood test. This fully personalized approached is optimized and very specific to support your best health. You'll receive prescription grade care. If your body doesn't need a specific supplement, you won't be taking it … or paying for it. Where your bloodwork indicates a deficiency, supplements are in dosages specific for your healthcare needs. All in one capsule or powder!
NG CARES Lipo-Derm
NG CARES Lipo-Burn
NG CARES Lipo-Lean
NG CARES FOCUS


Ready for Customized Wellness?
We can measure your unique body chemistry through a scientific mathematical analysis of your DNA via blood panels and tailor a solution to address deficiencies.
Optimal body chemistry is defined by your unique genetically determined levels of hormones, pre-hormones, vitamins, enzymes, proteins and electrolytes. These are what your body regulates in every moment of your day.
Option 2: Fullscript Quality Supplements
The immune system is your body's primary mechanism of defense. It is responsible to protect you from potentially harmful invaders including viruses. Dr Nancy offers direct access to high quality, effective immune and overall health supporting supplements.
Fullscript supplements can be customized to your needs per Dr. Nancy's recommendations. Dr Nancy can tailor a protocol for your needs. You'll receive an email to simply log-into Fullscript and receive your supplements a few days after paying online.
Sign-up and order today. A 15% discount is included by ordering through Dr. Nancy.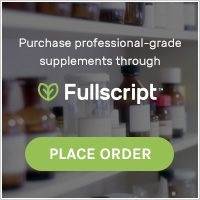 Need To Get in Touch?
Have questions or need more information about the Individual Membership Plans or NGCares Products? We're all ears. Send us your contact info and a bit about what's on your mind and a real person from Dr. Nancy's will reach back out to you.
*These statements have not been evaluated by the Food and Drug Administration. These products are not intended to diagnose, treat, cure, or prevent any disease.